Thornton
---
Hooley Heating & Air is your trusted HVAC pros in Thornton, CO.
Upfront Pricing, No Hidden Fees

100% No Interest Financing
For immediate service or repairs, give us a call at 970-493-3272.
HVAC Company in Thornton, CO
---
Make our HVAC company in Thornton, CO, your one-stop shop for all Larimer County HVAC services—call us now!  
Would you like to improve your property's energy efficiency, savings, and comfort? Schedule services from our HVAC company in Thornton, CO! Hooley Heating & Air Cooley Heating & Cooling has countless solutions at our fingertips to improve your HVAC system's performance, and our local services can make a huge difference to your comfort year-round.
Looking for a particular service? Here are some helpful links: AC Repair | AC Maintenance | AC Replacement | Heating Services
HVAC Installation and Service in Thornton and Surrounds
Air conditioning installation requires full knowledge about how each network and component fits together.
Our technicians understand the finer points, such as:
How electrical connections enable proper communications

Ideal methods to place and secure outdoor units

How to create effective ductwork and ventilation outlets for optimal airflow and more
Without this expertise, you'll likely experience poor indoor air quality, more expensive energy bills, and the need for constant repair services. But with our top-notch installation process, you'll secure your comfort, save money, and avoid stress! In the event you do need repair services, you can trust our team at Hooley Heating & Cooling to fix the problem on the spot! 
Why might repairs crop up? As air conditioners age, the components gather dust, become loose, or stop working altogether.
But don't worry; all you need to do is call if your cooling operations produce the following issues:
Odors wafting from your vents

Concerning humidity levels

Weak airflow

Fluctuating temperatures throughout your home

Loud or unusual sounds coming from your outdoor unit
All of the above issues indicate damaged parts or system blockages affecting your overall system performance, and preventing them starts with regular maintenance services. We like to think of maintenance routines as checkups. Our technicians act as HVAC doctors, troubleshooting and diagnosing any issues and administering the care your air conditioner needs for a long life.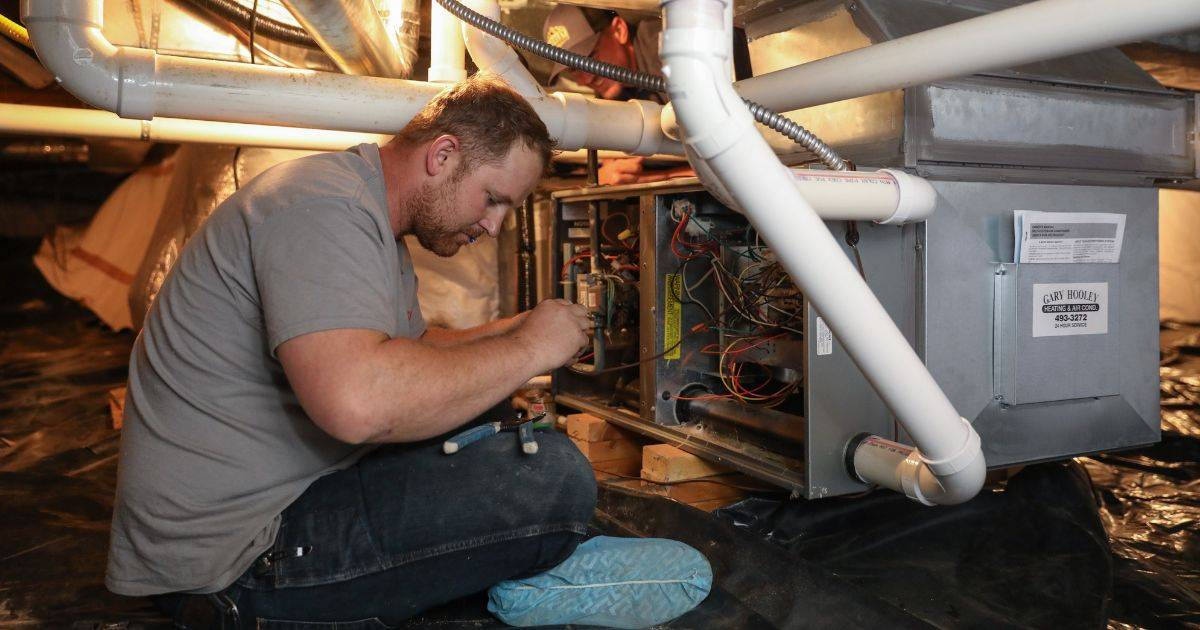 Furnace Installation and Repair in Thornton, CO
Colorado's frigid winters make furnace breakdowns dangerous. Proactive solutions help, including promptly replacing aging furnaces to curb expensive and potentially hazardous issues like frozen pipes.
However, only a licensed HVAC company in Thornton, CO, should handle the heating installation and repair work, or you could end up with the following:
A wrong-sized unit that can't adequately heat your home

Prematurely worn-out components 

Excessively expensive energy bills and more
At Hooley Heating & Cooling, our technicians provide professional installation and replacement protocols to help you avoid these hassles. In addition to excellent installation services, we also offer extensive HVAC repair services on various heating systems, such as:
Package units

Split systems

Propane and natural gas systems

Heat pumps 

Traditional furnaces
And do you know the secret to avoiding most unexpected furnace repairs? It's seasonal HVAC maintenance! Our maintenance services ensure that all networks can easily manage your comfort demands and save you hundreds in repair expenses and energy costs.
We kick off each service with a brief inspection, followed by:
Cleaning, tightening, and lubricating certain parts

Changing the furnace filters

Repairing minor issues and anything else we can see needs attention
Whole-House Fans in Thornton, CO
Which cooling method won't drain your wallet? We recommend whole-house fans as an excellent solution! When you choose this route, we fit your attic area with a fan to supplement your air conditioning system, which should decrease your energy costs and keep you comfortable.
As hot air rises, it takes up space in the uppermost area of your home, such as the attic, but it rarely finds an escape route. A whole-house fan draws this heat out before releasing it outdoors, which creates a cool, refreshing breeze across each floor. That way, you can turn down your air conditioner settings or even turn it off more to save money.
We typically recommend these fans for homeowners who have the following:
Multi-level buildings

Smaller buildings

Occupants in the attic space
Colorado's mild spring and summer temperatures offer the perfect climate to use a whole-house fan. If you want to give your cooling system a break, ask us more today!
Discover how our maintenance packages make all the difference in your HVAC's performance! Contact your friends at Hooley Heating & Air to learn more!
Hooley Heating & Air: an Exceptional HVAC Company in Thornton, CO
At Hooley Heating & Air, we believe that no property owner should have to settle for an incompetent HVAC company in Thornton, CO. With us, you'll only receive exceptional services from skilled technicians for quality HVAC services whenever you need them. Call 970-493-3272 today to request a service estimate or get fast help with an HVAC emergency in Thornton or the surrounding communities.
---
Our team of experts is ready to serve you! To schedule your service, repairs, or replacement, give us a call at 970-493-3272 or fill out an online request form.
---
Service Request
"*" indicates required fields