Westminster
---
Hooley Heating & Air is your trusted HVAC pros in Westminster, CO.
Upfront Pricing, No Hidden Fees

100% No Interest Financing
For immediate service or repairs, give us a call at 970-493-3272.
HVAC Company in Westminster, CO
---
Colorado weather is unpredictable at times, but our team is always reliable. Call us 24/7 for emergency repair service. 
Hooley Heating & Air is a trusted HVAC company in Westminster, CO. We provide expert HVAC installation, repair, and maintenance to keep you comfortable all year. Your comfort is our main priority.
We treat our clients like family and have great reviews to prove it!
HVAC Installation
If your HVAC system doesn't work as well as it used to, or if you've been putting off replacing it year after year, it's time to think about scheduling HVAC installation with Hooley Heating & Air and upgrading to something more reliable. Outdated units are inefficient, and you could waste hundreds of dollars on a struggling air conditioner that doesn't cool your house. 
Our team has the expertise to help you determine the perfect HVAC unit for your home. Choose options like a smart thermostat or a zoning feature to fully customize your home and keep your family comfortable throughout the year.
You may think it's a good idea to save a few bucks by installing a smaller HVAC unit, but that couldn't be further from the truth. The square footage of your home determines what size unit you need to heat and cool your home efficiently. A unit that's too small will run constantly without reaching your ideal temperature, driving up your monthly bills without keeping you comfortable.
HVAC Repair
Your HVAC system works all year long to provide air conditioning in the summer and heating in the winter. It's not unusual for components inside your unit to sustain damage from regular use. Replacing damaged parts over the years can extend your system's life and postpone replacement costs.
You don't have to wait until your unit completely breaks down before you call our HVAC company in Westminster, CO, for repair service. Here are some signs that your HVAC unit has a problem:
Some parts of your home are too warm, while others are too cold. A struggling HVAC system will never maintain a consistent temperature throughout your home.

Rattling or vibrating noises from the vents or the unit itself. Damaged parts may come loose and make disturbing noises until you call a professional for service.

Unusually high energy bills. If your HVAC unit struggles to reach the set temperature or runs longer than usual without making your home more comfortable, you will see that struggle reflected in high monthly energy bills.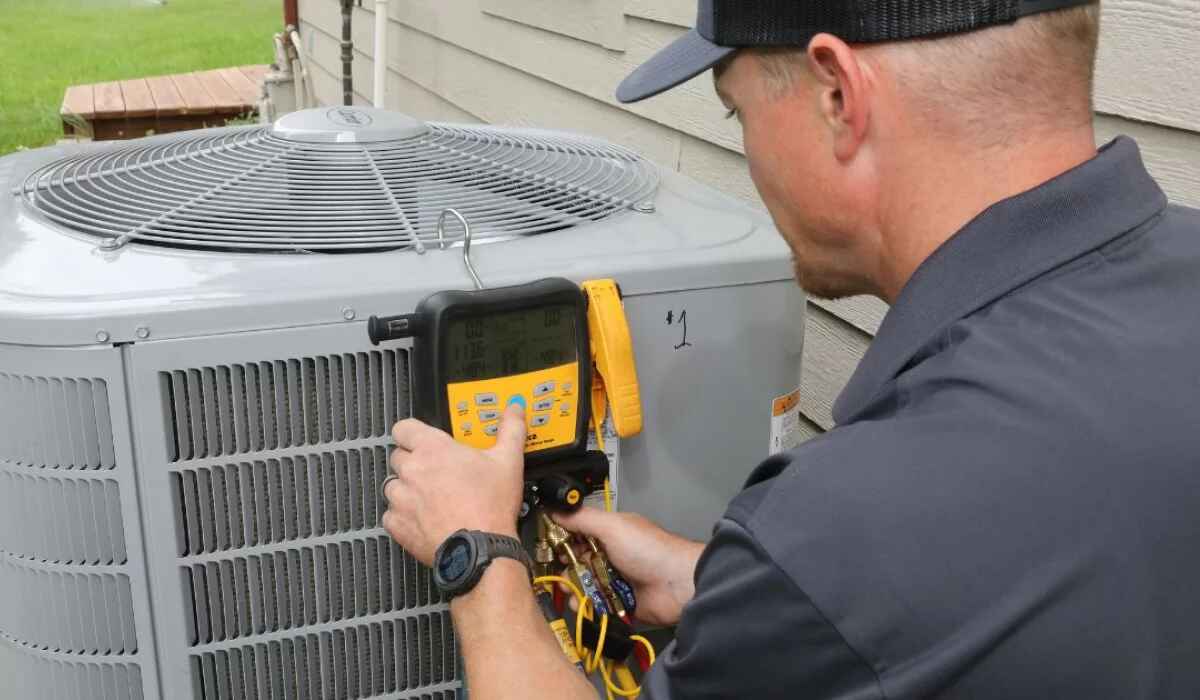 HVAC Maintenance
The best way to extend the life of your HVAC system is by scheduling annual maintenance with Hooley Heating & Air. Units that receive regular service may last up to 50% longer than units that only get service when they stop working completely. Many aspects of your HVAC unit could benefit from professional maintenance.
When you schedule HVAC maintenance with our team, we do the following to ensure a complete assessment:
Inspect the unit inside and out for signs of damage. We can replace damaged parts before they cause bigger problems with your unit.

Change the filter. Your HVAC unit filters out dust particles, mold spores, and other pollutants. A dirty filter can make your unit less efficient and reduce indoor air quality.

Check the evaporator coils. They are made of copper and easily develop pin-size holes. As the holes grow larger, they allow refrigerant to leak out. If your air conditioner blows warm air, you likely have a refrigerant leak.

Inspect the vents and ductwork. Without changing your air filter, dust and pollen are free to blow throughout the ductwork, forming a layer of filth in and around the vents. We will clean the vents and inspect the ductwork for damage, including holes that allow small rodents to infest your home and snuggle inside the insulation.
Have questions? Reach out to us by filling out our online contact form, and let us help!
The cost of HVAC maintenance is well worth it to avoid your unit breaking down in the height of summer or the dead of winter. Like your car, your HVAC system needs regular maintenance to operate efficiently for as long as possible. Hooley Heating & Air is a reliable HVAC company in Westminster, CO. We provide 24-hour emergency service to prevent you from suffering in extreme temperatures when your unit breaks down.
Fill out our online contact form or call 970-493-3272 to schedule service with Hooley Heating & Air and his experienced team. We look forward to hearing from you.
---
Our team of experts is ready to serve you! To schedule your service, repairs, or replacement, give us a call at 970-493-3272 or fill out an online request form.
---
Service Request
"*" indicates required fields