Commerce
---
Hooley Heating & Air is your trusted HVAC pros in Commerce, CO.
Upfront Pricing, No Hidden Fees

100% No Interest Financing
For immediate service or repairs, give us a call at 970-493-3272.
HVAC Company in Commerce, CO
---
Do you want an HVAC company in Commerce, CO, that provides quality services for your home comfort? Call us today for a service estimate!
We at Hooley Heating & Cooling strive to make our HVAC company in Commerce, CO, your top choice in the area. Our technicians respond to Commerce's regular service requests and heating and cooling emergencies year-round. And we do it all while delivering excellent customer service and reliable solutions for your Commerce City home. 
Why do our HVAC installation, repair, and maintenance services earn stellar reviews from customers like you? Find out here.
HVAC Installation and Service in Commerce, Colorado
You should always leave HVAC installation to certified professionals who intimately understand an air conditioning unit's complexities. Our technicians make quick work of installation and replacement services without sacrificing quality or reliability. We'll also ensure your new unit meets industry requirements by holding our work to the following standards:
Precision

: The wrong air conditioner will overwork and raise energy costs. We check and double-check each measurement to certify we have the correct numbers. 

Safety

: Installation services involve electricity, so our licensed professionals follow strict safety protocols throughout the process.

Local permitting

: Permits may differ depending on the municipality. We adhere to all permits and inspections to protect your purchase and its warranty. 

Quality

: We only carry quality models from reputable brands, which means that you get years of satisfactory operation from your new HVAC system.
By choosing Hooley Heating & Air, you'll never sacrifice affordability for reliability because we believe you should enjoy both. For instance, while professional installation services circumvent numerous problems, they don't permanently prevent the need for an occasional HVAC repair service. That's why we keep a diverse inventory on hand for your convenience. 
Does your air conditioner have any strange "quirks" during operations? Chances are that those quirks signify trouble ahead:
Even faint odors indicate stagnant condensation or debris blocking your ductwork. 

When a unit makes sounds that stray from typical, gentle humming, it often has a faulty or loose component. 

Tampering with your thermostat constantly to achieve desired results may mean an electrical disconnection or an outdated thermostat.
Don't settle for quirks. Get the repair services you need from our HVAC company in Commerce, CO!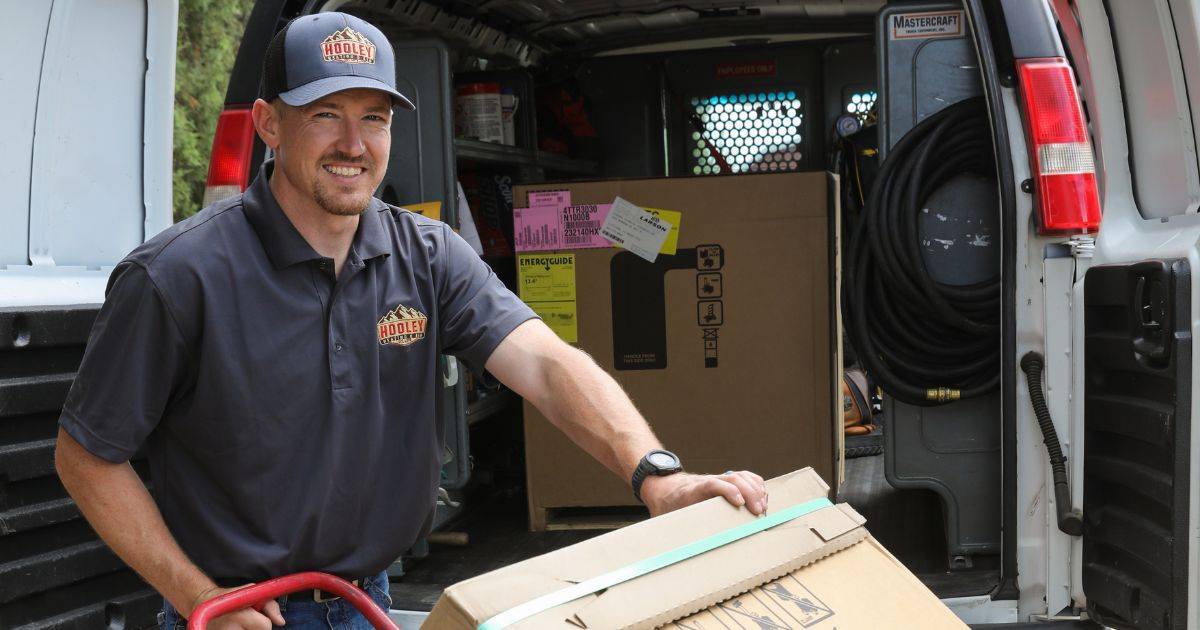 Easy Furnace Installation and Repair in Commerce, CO
Colorado winters dip well below freezing, and these frigid conditions often lead to frozen or burst pipes. That's why proper heating system installation, repairs, and maintenance are integral to a comfortable, safe home in this area.
Our furnace installation and replacement service ensures your new furnace matches your needs, including covering the following:
Your home's square footage

The number of BTUs the local climate requires

The amount of insulation your property has
We'll also assist you in choosing an economical, energy-efficient furnace to keep you comfortable all winter! After that, if your unit needs repairs, you can count on us to find quality parts from the most reputable manufacturers, whether it's for disconnected wires, dirty parts, or relubrication. 
An HVAC maintenance routine also prevents frequent repairs. Each session begins with a thorough inspection to ensure secure connections and undamaged parts.
Then, we do the following and more:
Clean dirty coils

Unclog drainage lines

Remove debris from vents and ductwork

Change furnace filters
We'll also discuss any potential problems with you throughout the process.
Install Whole-House Fans in Commerce, Colorado
Our Commerce HVAC professionals typically install whole-house fans into residential attics to pull hot air from the entire building before releasing it outside. Why install these fans?
It solves your home's stagnant air problem if you can't open your windows regularly

It will reduce your required air conditioner usage

It easily removes excess heat indoors from the upper stories
Before installation, we'll inspect your attic closely and fit the fan. So, once we finish installing your new fan, you can enjoy easy, breezy cooling capabilities at the flip of a switch. 
And for any heating and cooling systems, keeping excessive repairs at bay is easier if you purchase a maintenance plan. We usually recommend routine maintenance twice a year, during which our technicians inspect multiple networks and tune up various components for the upcoming season.
Learn more about our winning, committed team of technicians here!
Hooley Heating & Cooling's HVAC Company in Commerce, CO, Is Dedicated To Your Comfort
We work hard to meet two essential qualifiers of HVAC success: customer satisfaction and perfect adherence to industry standards. When you choose Hooley Heating & Cooling, you can feel confident that your preferred HVAC company in Commerce, CO, puts your comfort first. Call 970-493-3272 today!
---
Our team of experts is ready to serve you! To schedule your service, repairs, or replacement, give us a call at 970-493-3272 or fill out an online request form.
---
Service Request
"*" indicates required fields