Windsor
---
Hooley Heating & Air is your trusted HVAC pros in Windsor, CO.
Upfront Pricing, No Hidden Fees

100% No Interest Financing
For immediate service or repairs, give us a call at 970-493-3272.
HVAC Company in Windsor, CO
---
Top-Rated Heating & Air Conditioning (HVAC) Services in Windsor, CO.
If you come home to a freezing cold house, you don't need to wait until the next day to call for repair. We provide 24-hour service calls! 
Your home is a place to relax after a long day. If your HVAC system breaks down, you will suffer in extreme cold or heat until an HVAC company in Windsor, CO, can come to your home for service. Hooley Heating & Air knows home comfort is an urgent matter, and we do our best to come to your home quickly to fix the problem.
We love making our clients happy, and our reviews prove it!
HVAC Installation
No HVAC system lasts forever. If you have had the same unit for over a decade, it may not work as well as it used to. Newer units use less energy to keep your home comfortable, even during extreme temperature fluctuations. You will love watching your monthly energy bills decrease as you enjoy the perfect indoor temperatures all year.
An HVAC unit with a smart thermostat allows you to adjust the temperature with a remote or an app on your smartphone. If you wake up freezing in the middle of winter, you can turn up the heat without ever leaving your comfortable bed.
We carry high-quality brands that we trust enough to install in our own homes. Our team has years of industry experience to help you choose the best unit to fit your budget and needs. We will look at your home's square footage and show you options to keep you as comfortable as possible.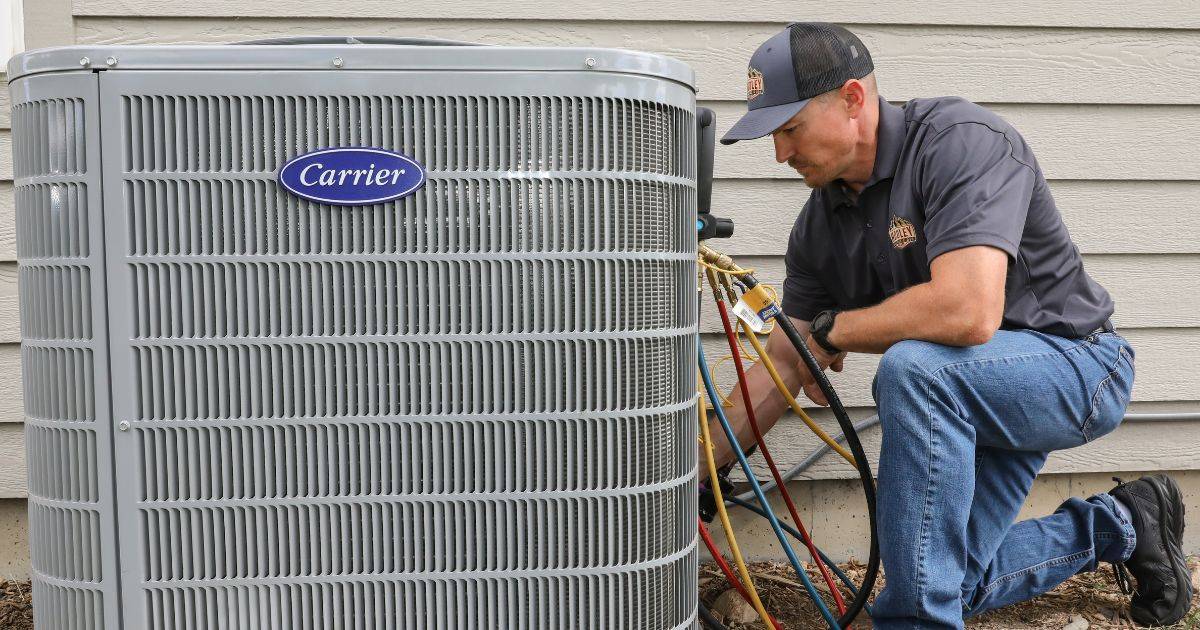 HVAC Repair
Every HVAC system needs a little TLC every once in a while. It's not unusual for the individual parts to wear out after a few years of regular use. If you call our HVAC Company in Windsor, CO, as soon as you notice signs of trouble, we can repair the damage before it becomes a bigger, more expensive problem.
Your HVAC system provides heating and cooling for your home, and there are many components that sustain damage over time. It's not unusual to end up with damaged parts, but this never comes at a convenient time.
Hooley Heating & Air services all aspects of home comfort. Contact us if you encounter the following issues:
An inaccurate thermostat

A furnace that doesn't keep your home warm

An air conditioner that doesn't keep your home cool

A whole-house fan that no longer works efficiently
HVAC Maintenance
The last thing you want is for your heater or air conditioner to break down when you need it most. If you want to keep your HVAC unit running smoothly for as long as possible, you need to schedule regular maintenance with a reliable HVAC company in Windsor, CO.
The best way to extend the life of your HVAC system is by scheduling annual maintenance. Units that receive regular service can last up to 50% longer than units that only get service when they stop working completely. Professional maintenance is a necessity for those wanting to get the most out of their systems.
Here are some signs it's time to schedule heating and air conditioning maintenance:
Bad smells: 

If you notice a mechanical smell or a musty odor, your HVAC unit could have damaged parts that create a strain as the unit tries to reach the set temperature.

Increased allergy symptoms:

 Your HVAC unit filters dust, pollen, and other small particles out of the air. If you haven't changed the filter or cleaned the ductwork lately, the dust particles flow freely around your home, worsening allergy symptoms.

Rattling or vibrating sounds:

 Any time you notice your unit making new noises, it's a cause for concern. Loose or damaged parts can vibrate enough to damage other areas of your HVAC unit.

Unusually high energy bills:

 The more you use your HVAC unit, the more you will have to pay monthly for your energy bill. However, you should schedule professional maintenance if you haven't used your unit more than usual and have consistently high energy bills.
Want to know about the people you invite into your home? Learn more about our team, then contact us for service!
You need a trusted HVAC company in Windsor, CO, and Hooley Heating & Air is here to help. Whether you need an emergency repair or it's time to install an energy-efficient unit, we have the experience to handle the job. Fill out our online form or call 970-493-3272 to schedule service today.
---
Our team of experts is ready to serve you! To schedule your service, repairs, or replacement, give us a call at 970-493-3272 or fill out an online request form.
---
Service Request
"*" indicates required fields