Loveland
---
Hooley Heating & Air is your trusted HVAC pros in Loveland, CO.
Upfront Pricing, No Hidden Fees

100% No Interest Financing
For immediate service or repairs, give us a call at 970-493-3272.
HVAC Company in Loveland, CO
---
Your Trusted Heating & Air Conditioning Specialists Serving Loveland, CO.
When you need a reliable HVAC service team, we offer service 24 hours a day.
A comfortable indoor temperature has a huge impact on your day. Whether you work from home or dream of the moment you can leave the office and relax on the couch, a house that is unbearably hot or freezing cold can ruin your mood. 
When you call Hooley Heating & Air, you know you are working with the best HVAC company in Loveland, CO. We have been in business since 1979, keeping residents of Loveland and the neighboring towns comfortable in their own homes. We offer 24-hour emergency service to repair HVAC problems no matter when they happen.
Every customer is our favorite, and we love seeing five-star reviews!
HVAC Maintenance
It's easy to forget about your HVAC unit when it works as it should. When your air conditioner breaks during a heat wave, you could end up with an expensive repair bill. Annual maintenance is a great way to catch problems while they're small and less expensive to repair.
During a preventive maintenance call, we thoroughly inspect your HVAC unit inside and out to check for problems.
Our checklist includes the following:
Changing the filter to increase your indoor air quality and reduce allergy symptoms

Cleaning the unit inside and out to remove dirt buildup

Inspecting each component for signs of damage and replacing worn parts

Adding more refrigerant, if needed

Checking parts of the furnace for cracks, which could lead to carbon monoxide poisoning

Recalibrating the thermostat to help your unit reach an accurate temperature
Well-maintained HVAC systems can last up to 50 percent longer than units that don't undergo regular maintenance. Your unit will work more efficiently when all the parts are in good shape, and it is less likely that you will end up with an unexpected outage during a heat wave.
HVAC Repair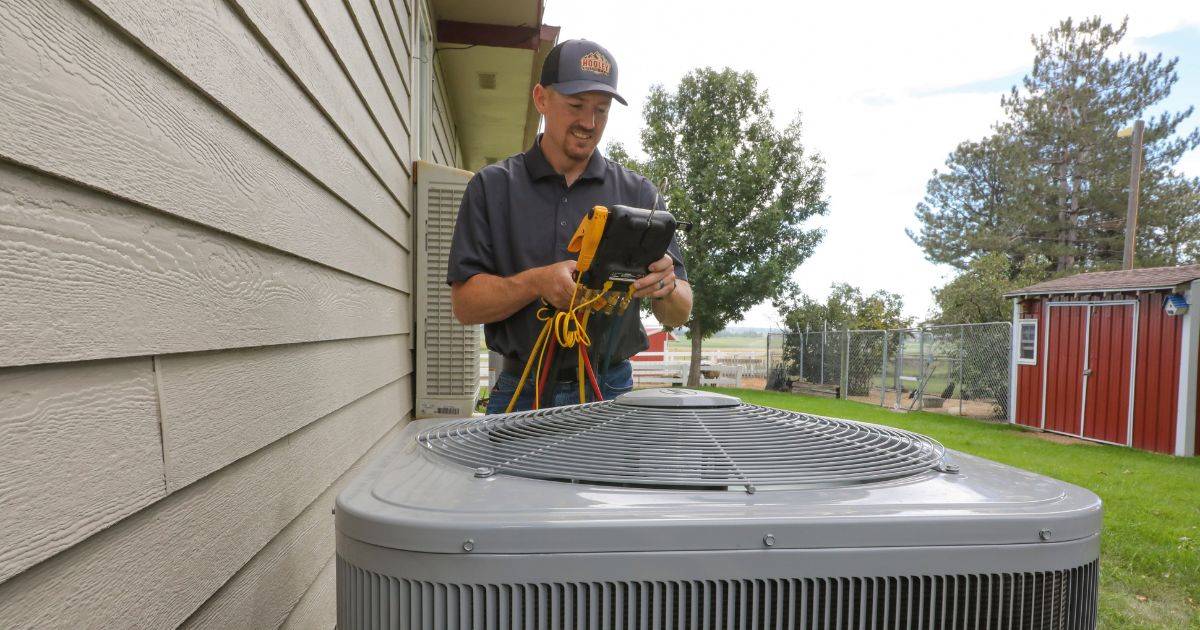 Even though your HVAC system can last over 15 years, the components only last a few years before they end up damaged, causing your unit to work harder than necessary to keep your home comfortable. If you notice signs that your unit struggles to keep up with your household demand, calling an HVAC company in Loveland, CO, like Hooley Heating & Air will prevent a small problem from growing into a huge issue.
The following are some signs you need to schedule professional repair:
You adjust the thermostat, but your home never reaches the set temperature.

You notice a musty smell near the unit or coming from the ductwork.

Your allergy symptoms get worse while you're inside your home.

Your monthly energy bills are abnormally high.
If you notice any of these problems, don't put off scheduling repair because you think it will cost too much. The longer you delay service, the larger the problem grows. What starts as a simple damaged part could end up causing your entire unit to malfunction.
HVAC Installation
When your HVAC system reaches the end of its life, you need a trusted contractor to walk you through installing a new one. Not every HVAC system is right for every home. Our contractor will take the time to measure your home's square footage and discuss your heating and air conditioning needs. 
A correctly sized unit will cool your home efficiently, lowering monthly energy bills. Newer units don't need repairs as often, so you will save money on repair costs right from the beginning. An updated unit is a wise investment in the future of your home.
We will show you brand-name options that offer the features you want. You can choose a unit with zoning options to customize the temperature throughout your home. That means no more fighting over the thermostat if one person is always cold and another is always too hot.
You can even choose a unit with a smart thermostat. You can do it right from your smartphone instead of moving from your comfortable spot to adjust the temperature. You can adjust the temperature when you're away from home to lower your energy bills even more.
Not sure which of our services you need most? We can help. Fill out our online contact form, or give us a call!
There is no more reliable HVAC company in Loveland, CO, than Hooley Heating & Air. We have been in business since 1979 and have the real-world experience to handle all HVAC problems. Schedule service by filling out our online form or by calling 970-493-3272.
---
Our team of experts is ready to serve you! To schedule your service, repairs, or replacement, give us a call at 970-493-3272 or fill out an online request form.
---
Service Request
"*" indicates required fields