Fort Collins
---
Hooley Heating & Air is your trusted HVAC pros in Fort Collins, CO.
Upfront Pricing, No Hidden Fees

100% No Interest Financing
For immediate service or repairs, give us a call at 970-493-3272.
HVAC Company in Fort Collins, CO
---
Why choose our HVAC company in Fort Collins, CO? Explore our comprehensive heating and cooling services and find out!
At Hooley Heating & Cooling, we hold our technicians to the highest industry standard. Our Larimer County team believes a home-sweet-home should be a refuge of comfort and relaxation. A faulty air conditioner or malfunctioning furnace detracts from the comfort you deserve. 
Thankfully, our extensive experience with HVAC systems of all types prepares us to tackle any challenges. Whether you need assistance late at night or regular repair service, you can trust our Fort Collins team to arrive on time and well-equipped!
We build lasting relationships with other community members. Read our reviews to learn more!
Reliable Air Conditioning Services in Fort Collins, Colorado
Give your new air conditioner a strong start by allowing our certified technicians to handle the job!
When our HVAC professionals performs an air conditioning installation, you avoid several pitfalls, such as:
Over or undersized unit

: The wrong unit size leads to excessively high energy bills and premature HVAC repair services. 

Unsafe electrical connections

: Without stable connections, your air conditioner could suddenly switch off, miss messages from your thermostat, or blow the circuit.

Improper unit placement

: An unstable unit will wobble around, loosening connections and damaging components. Thermostats near a drafty area will also struggle to maintain an accurate reading. 
At Hooley Heating & Air, we install your air conditioner according to strict industry standards, pulling permits for each customer we serve. And although maintenance and repair services seem like a hassle, they are integral to your air conditioner's performance and longevity. Don't worry; our team simplifies the process by scheduling the best service time for you and handling all the details. 
With our maintenance packages, you could avoid repair services altogether! Did you know an HVAC maintenance service offers the following benefits?
Manageable energy bills

Better energy efficiency

Less frequent repair calls

Comfort, thanks to more even temperatures

Great indoor air quality
Furnace Installation and Repair in Fort Collins, Colorado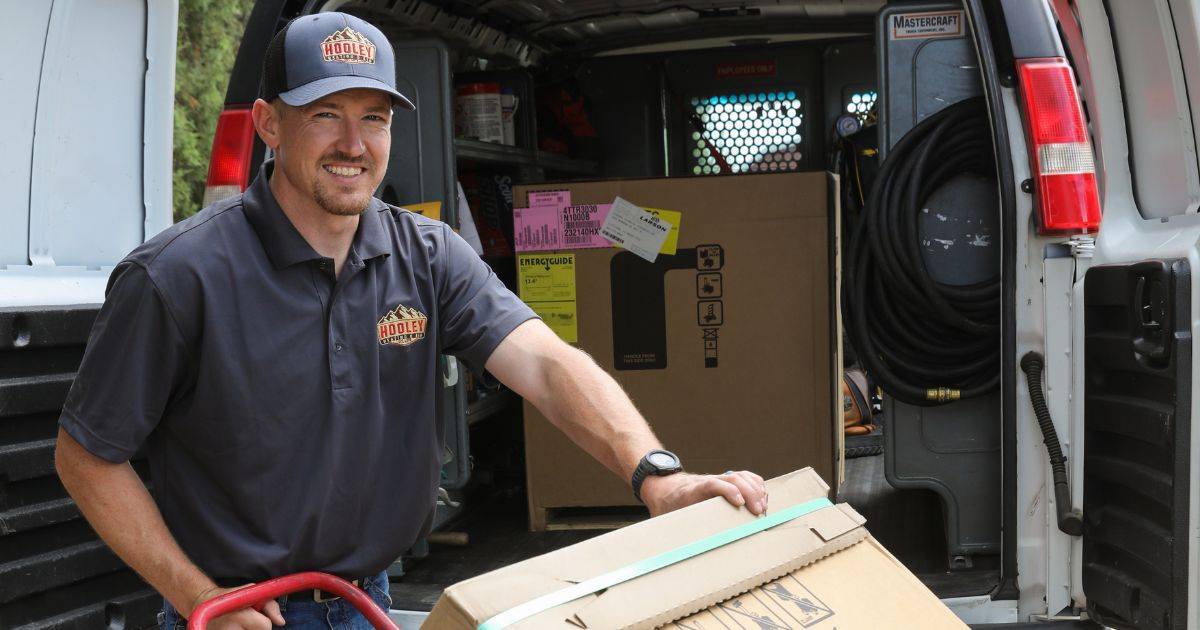 As an experienced HVAC company in Fort Collins, CO, we also happen to specialize in HVAC installations and replacements. A reliable heating system is essential in Colorado's bleak winters, where the temperatures dip dangerously low. If your furnace has already provided 15 or more years of service, consider replacing it with a newer, more efficient model. 
In some cases, furnaces have small issues with big consequences. Our team frequently encounters issues such as:
Blocked vents and ductwork

: A toy, cardboard box, or another forgotten object becomes lodged in the ductwork, causing strange smells and poor airflow. 

Dirty pilot lights

: Soot eventually coats pilot lights, preventing ignition. 

Damaged blower belts

: We often replace blower belts due to regular wear and tear. 

Rumbling or rattling

: These sounds indicate loose panels and parts, which we tighten. 
Why consider us for a comprehensive maintenance plan? It secures your furnace's longevity and performance year-round. During a regular maintenance service, we'll do the following:
Change air filters 

Tighten and clean components

Lubricate mechanical parts

Calibrate electrical connections 

Inspect multiple points of your furnace for developing problems and more 
Whole-House Fans in Fort Collins and the Surrounding Areas
Summers in Colorado are milder than in other regions, and unnecessarily running an air conditioner on full blast can eat away at your finances. So, you can circumvent costs by installing whole-house fans in your attic in Fort Collins.
A whole-house fan sucks hot air out of the room and releases it outside while using less energy than most air conditioning units. People who own large homes use these fans to supplement their centralized climate control systems. Others may use them as their primary cooling system, coupled with a portable unit or a window unit.
In either case, whole-house fans effectively create a constant breeze. This continuous airflow feels refreshing but also removes moisture and prevents air stagnation.
Why not let us install a fan for you?
We inspect the attic for the perfect spot.

We take measurements and consider the size of your home. 

We help you select a product and install it.

We test for proper electrical connections so that you can have a cooler home right away.
Check out our blog to explore numerous HVAC repair tips and tricks!
What Makes Our HVAC Company in Fort Collins, CO, Different?
What can you expect from Hooley Heating & Air?
Transparent pricing and work plans

Ample assistance with purchasing decisions

Excellent customer service with a smile and more
Our HVAC company in Fort Collins, CO, believes in making comfort available to all. Call 970-493-3272 to schedule services with Hooley Heating & Air today!
---
Our team of experts is ready to serve you! To schedule your service, repairs, or replacement, give us a call at 970-493-3272 or fill out an online request form.
---
Service Request
"*" indicates required fields